SELF CONTAINED, SELF CATERING FLAT IN SOMERSET WEST
The apartment consists of a ground floor kitchen/dining area which is equipped with cooker, fridge and the usual items such as electric kettle, toaster and so on.
Upstairs, there is a large sitting room with windows on two sides.
The view from the patio windows (which lead on to a sun deck/balcony) is to the ocean with the Hottenton Holland mountains on the left.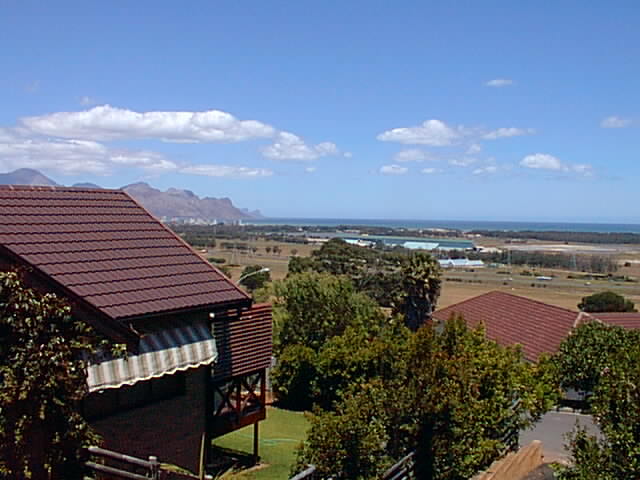 To the right, in the far distance, the rear of Table Mountain and down to Cape Point.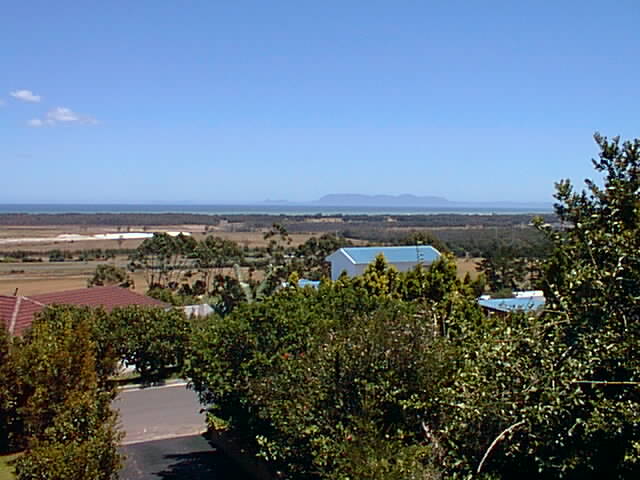 There is a door from the sitting room to the double bedroom equipped with built in wardrobes and a double bed, night tables and two sets of chests of drawers.
The bedroom has its own en suite shower room, wc and wash hand basin.
There is also a ground floor WC/Shower room leading off the ground floor kitchen which is quite useful when more than two people are staying in the flat.
The flat is very comfortably furnished and there is a new bed settee in the lounge and a wardrobe tucked away in an alcove for use when more than two people are staying.
There is a lovely garden and a small salt water swimming pool which guests are very welcome to use.
There is a shade tree on the garden patio - breakfast out of doors under this tree becomes a special meal.
Somerset West is a delightful small town some 20 minutes by car from Cape Town International Airport.
There is a shopping mall about 5 minutes away from the flat (including a multi screen cinema complex) and the town itself has a number of shops, restaurants, pubs and banks.
As you drive into the town, the Helderbeg mountain is on your left and facing are the Hottentot Holland Mountains - they change in colour as the sun moves around during the day.
There is the use of a car with the flat. This means that there are many different outings to be taken. For example, Cape Point with its nature reserve and views. Or the scenic drive by Chapmans Peak to Cape Town, surely one of the most breathtaking drives inthe world.
The Stellenbosch Wine Route has many vineyards to visit and usually there is either a cafe or a restaurant for a snack or a meal.
There is an allowance of 750 kilometres per week (or 100 kilometres per day if less than a week). Any distance driven beyond those quoted will be charged for at the rate of £10 per 100 kilometres and pro rata. You will probably find that 750 kilometres for the week is more than adequate.
If you prefer the train, rather than driving to Cape Town, then the first class return ticket is around £4 and takes about an hour. It is well worth doing if only to see a different kind of scenery to that on the road.
Cape Town is not a large city and it is easy to walk around. A particular favourite is the Greenmarket Square especially when viewed from the outside deck of the Holiday Inn sipping your favourite drink. There are many street traders and they enjoy bargaining with you.
Stellenbosch is the second oldest town in South Africa and is an easy drive (around 20 minutes) from the flat.
Hermanus is about 45 minutes drive and is an internationally known centre for whale watching. It also has a splendid five star hotel where Sunday Lunch (some 7 or so courses) costs around £7. Petrol is cheaper than in the UK and much of Europe.
For those who like shopping, the Tygerberg Mall rivals any that might be seen in the USA. The beaches at the Strand or Gordon's Bay are a 10 minutes drive away. Lovely white sand, though the water tends to be cold, and there are pleasant areas to sit out and enjoy the sun. One fascincating outing is to take the train from Cape Town to Simonstown, which has been a naval base for many years. Lunch is served on the train and, while it is NOT the Orient Express, the food is good and reasonable and the sea views spectacular.
There is live theatre in Cape Town. A magnificent Opera House which stages productions to equal those in the West End of London. Ballet also. There is much activity beween October and April. It is easy to find out what is going on at the local Computicket outlet and this is also an easy way to book seats. Some of the local vineyards have amphitheatres and productions are varied and can be delightful especially with a free glasss of wine of your choice in the interval.
Eating out is not expensive. Expect to pay around £3 or so for lunch and around twice that for dinner at a competent restaurant. There is a good selection in the area. Wine and liquor are reasonable - around £4 for a bottle of Scotch and a little less for 200 cigarettes. Food prices are just a little less than in UK.
The cost of the flat (including the exclusive use of the car for your visit) is £50 per day for two people. There is an additional charge of £5 per person per day when more than two stay. The charge over the Christmas period (20th December to 3rd January) is £55 per day for two people. A deposit of 20% is required on booking with the balance to be paid four weeks prior to departure. All guests are met at the airport by Ken Nightingale and taken back to the flat which is on his property. He has been a resident in South Africa for the last eight years and knows all the places that should be visited and will supply a map and directions. He was a restaurateur and worked in catering for many years before his retirement. You will find a "welcome basket" of the basic necessities in the flat to give a flying start to your holiday.
Please telephone Anne or Bryan Wardman at Telephone: 01580 713975 (UK) or call Sabelo Ndabazandile in South Africa at +2783 400 9129 or Ken at +2721 855 1681 to make a booking or even just to talk about the possibility of enjoying a vacation in one of the most beautiful spots of the world
Alternatively, check this page out

page by